The Pyne Awards Africa, a prominent boutique Events & Consulting Company in the African Hospitality and Tourism Industry, sought to enhance its online presence and establish itself as an industry expert. The client approached us with the challenge of limited online visibility, a lack of credibility, and missed analytics insights.
Problem: Before engaging our services, The Pyne Awards Africa faced a series of challenges that hindered its growth. The absence of a proper online presence prevented the establishment of an industry expert appearance. This lack of recognition affected their ability to interact with high-profile individuals and impeded their goals.
In response to The Pyne Awards Africa's challenges, we designed and implemented a multifaceted solution that redefined their online presence. This comprehensive approach encompassed the integration of numerous features aimed at enhancing user experience, security, and engagement.
Intuitive 

User Interface

Design
Web Development
Mobile Responsive Interface
Google reCAPTCHA Integration
Multi-Gallery Integration
Newsletter Integration (MailChimp)
Search Engine Optimization
Social Media Integration
Website CDN & SSL
Website Chat
Website Firewall & Security Features
Website Forms
Ongoing Technical support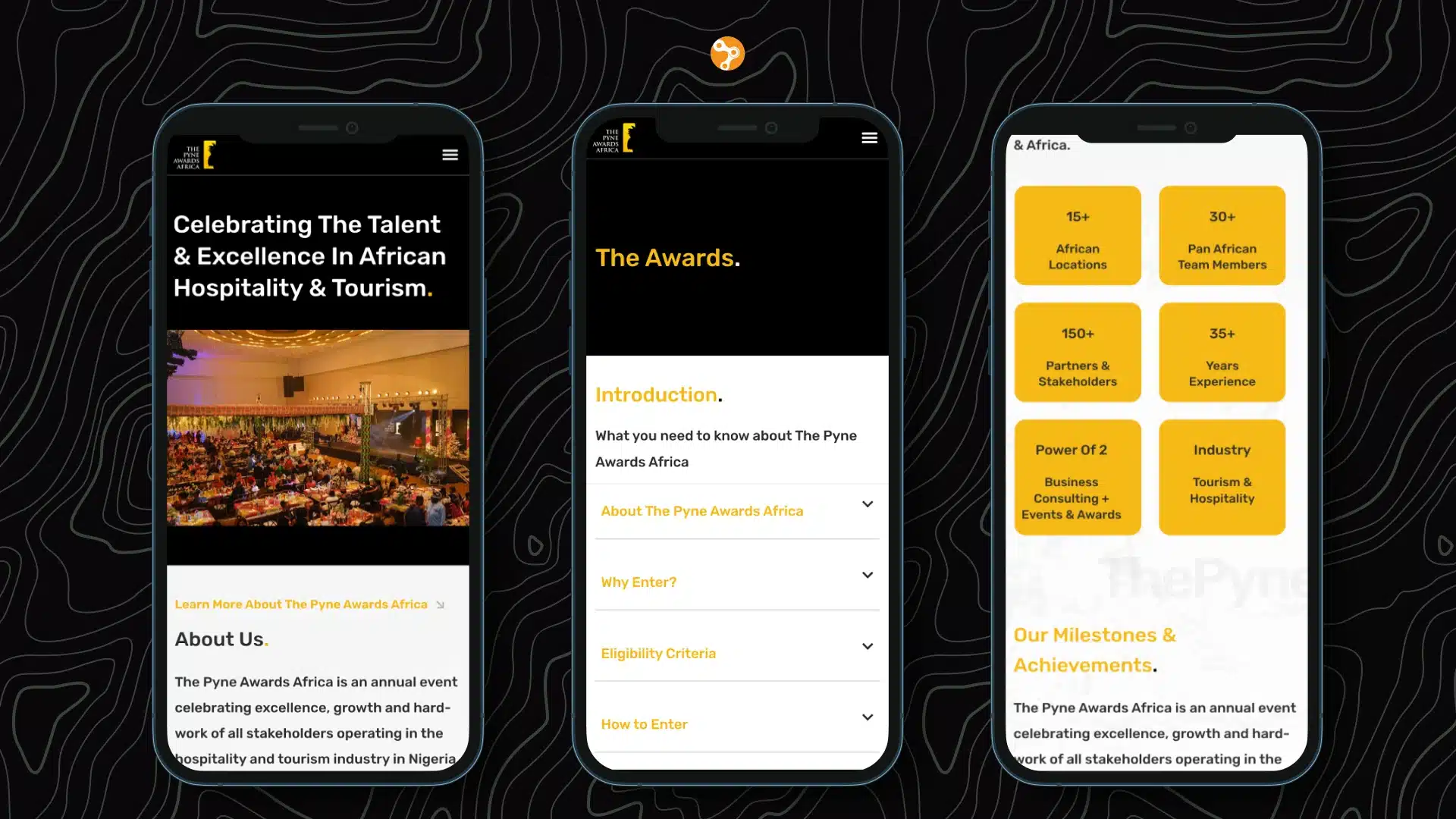 Leveraging modern technologies and industry best practices, we executed the solution over a period of 10 weeks. We meticulously designed the user interface, ensuring optimal user experience and engagement.
We closely collaborated with The Pyne Awards Africa's team, incorporating their insights and feedback at every stage. This synergy contributed to the creation of a custom solution that perfectly aligned with their vision. 
Google Lighthouse is a tool used to determine the performance, accessibility, best practice and SEO of a website.
Performance analyzes how quickly a website loads and how quickly users can access or view the content.
Accessibility examines how well a website can be used by people with disabilities.
Best Practices focuses on security aspects of websites and modern standards of web development.
SEO focuses on how well a website or app can be crawled by search engines and displayed in the search results.
90+ rating guaranteed on both mobile and desktop
The impact of our solution was transformational. The Pyne Awards Africa experienced increased user engagement, greater online visibility, enhanced credibility, and improved sharing of information.
Additionally, they gained the ability to effectively reach mobile users, resulting in better analytics insights regarding website visitors. 
The Pyne Awards Africa's journey from limited online presence to a position of industry influence reflects the success of our collaborative effort. By leveraging our expertise and adopting a customized approach, we provided a tailored solution that directly addressed their challenges.
This case study exemplifies our commitment to transforming client ideas into thriving digital solutions, while fostering growth and enriching the quality of life for our clients, our team, and the community.