Client Overview & Problem Statement:
Arddos Foods, a food processing and packaging company, is dedicated to transforming agricultural produce into premium food products. Their focus extends to both the local Nigerian market and the export market for Nigerians in the diaspora.

The challenge was to provide a specialized e-commerce platform that allowed businesses and companies worldwide to easily access and procure Nigerian raw materials, such as Ofada rice, yam flour, garri, wheat flour, and more, all of exceptional quality.
We designed and developed a bespoke e-commerce website for Arddos Foods, tailored to the needs of businesses and companies seeking Nigerian raw materials. This platform efficiently connects global clients with a rich selection of premium agricultural products.
With intuitive navigation and
secure transactions
, our solution enables Arddos Foods to seamlessly export the essence of Nigerian agriculture, serving businesses worldwide with high-quality raw materials.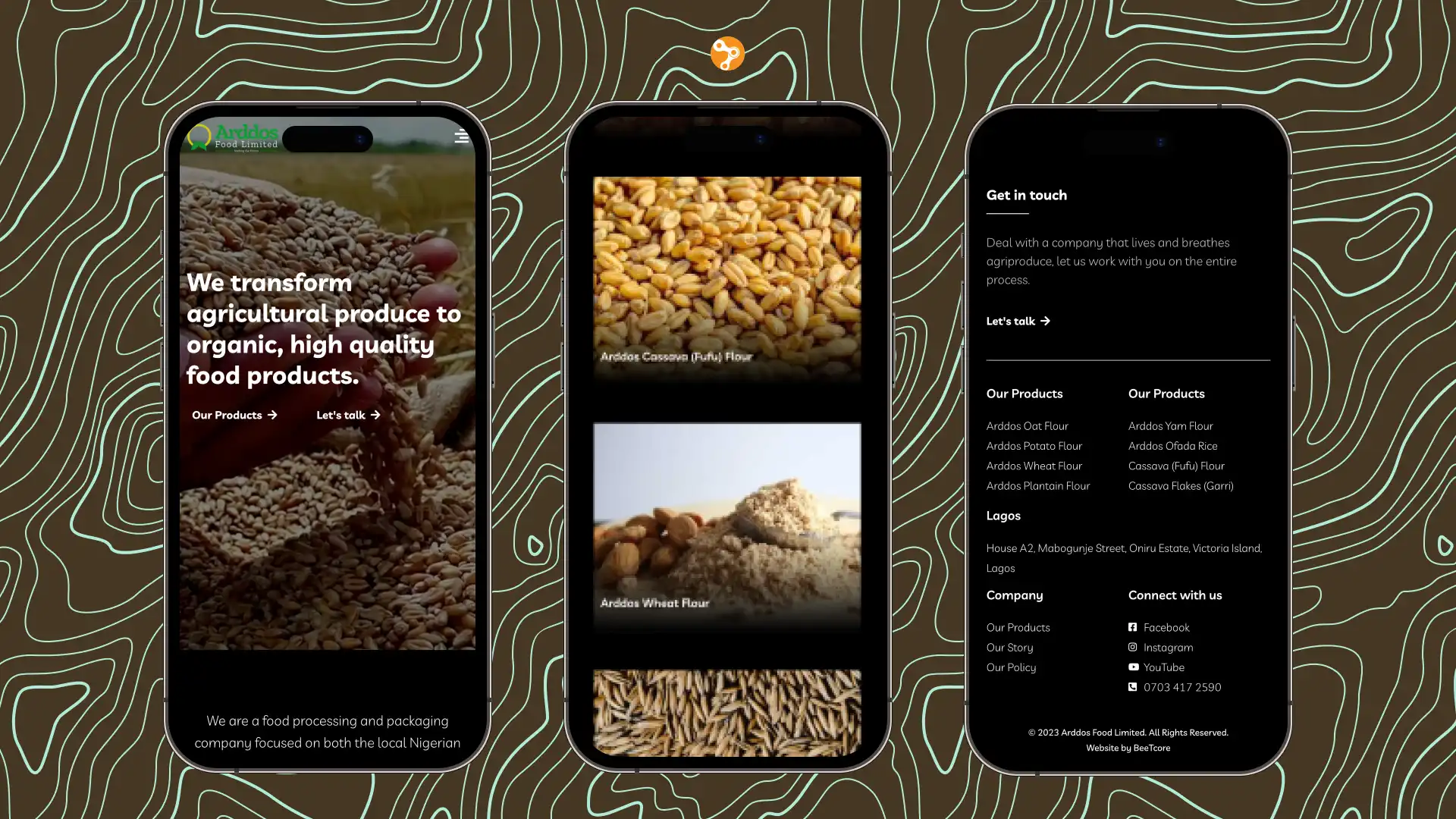 Intuitive User Interface Design
E-commerce solutions (backend dashboards, coupon system, payment integrations, product reviews, product management, order management, inventory management, delivery/shipping solutions, and more.
Mobile Responsive Interface
Abandoned Cart Feature
Cloudflare integration
Company Email
Customized Delivery Instructions
Domain name & hosting
Financial Reporting System
Gallery feature
Google Analytics integration
Google reCAPTCHA Integration
Integrated payment gateway
Multi-Currency Payment (USD & NGN)
Multiple Payment Options
Newsletter Integration (MailChimp)
Order Tracking System
Search Engine Optimization
Social Media Integration
Website CDN & SSL
WhatsApp Integration
Website Firewall & Security Features
Website Forms
Ongoing Technical support